Music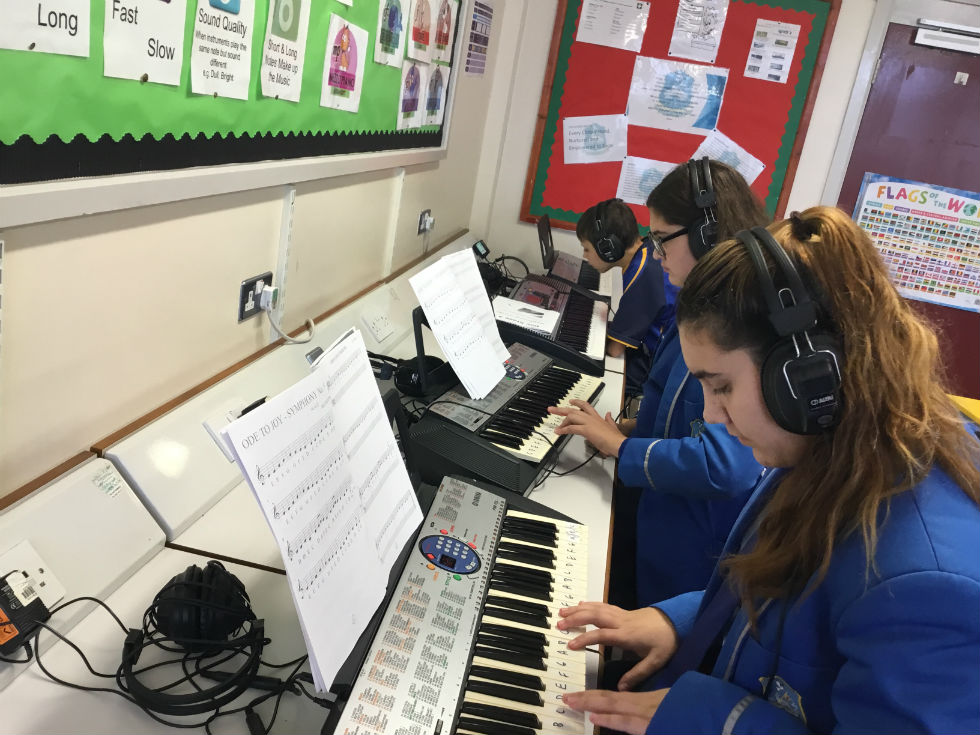 Welcome to the Music Department of St John the Baptist College!
Few people are unaffected by music. It pervades everyday life and is an integral part of social culture. Within the school curriculum, music can enrich the lives of individual pupils, providing opportunities for their personal, intellectual, social and cultural growth. It cannot be emphasised enough that children gain musical knowledge, understanding and skill by actively taking part in musical experiences.
The Department provides opportunities for all pupils from Years 8-10 to come together to enjoy and perform music both in and out of the classroom. Here, diversity is celebrated within the department by holding and attending different events and productions.
Music is an area of the curriculum that develops pupils sensitivities to many aspects of everyday life and prepares them for a very wide range of stimulating and challenging activities. It plays a central role in the development of pupils' understanding, being concerned with the education of feeling; exploration of values; practical and perceptual skills and intellectual and aesthetic development.
Our Music Department aims to do this by:
To recognise the potential of career opportunities
To enable pupils to discover, in all shapes and forms, as a medium of expression
To provide practical experience of music for all pupils
To develop aural perception and imagination
To enable pupils to experience enjoyment and satisfaction through participation in both ensemble and individual music making activities
To enable pupils to extend their musical experience through their own initiative
To develop social skills, decision making and self-confidence in the pupils
To create an atmosphere where pupils, whatever their musical ability, can contribute to and learn from the class that is both enjoyable and stimulating
To contribute to children's personal and social development and the development of positive attitudes to self and others
To learn to appreciate the enjoyable and worthwhile nature of leisure
Key Stage 3
We also aim to produce a secure, nurturing environment to learn Music and for pupils to enjoy extra curricular experiences within the realms of Music Practice and Musical Theatre.
The department works to develop the pupils' appreciation and enjoyment through performing, composing and listening activities.
In Year 8 we cover:
Unit 1: Musical Basics
Unit 2: Keyboard Skills
Unit 3: Instruments of the Orchestra
Unit 4: GarageBand
Unit 5: Band Unit
In Year 9 we explore:
Unit 1: Building Blocks of Music
Unit 2: Pentatonic Scale
Unit 3: Popular Music
Unit 4: GarageBand
Unit 5: World Music
In Year 10 we study:
Unit 1: Elements of Music including Chords & Scales
Unit 2: Film & Mood Music
Unit 3: Music for Special Occasions
Unit 4: Careers in Music
Unit 5: GarageBand
_____________________________________________________
Key Stage 4
Department member: Mrs J Crawford
Extra - Curricular Provision
The Music Department offers a variety of extra-curricular opportunities for pupils which will build their confidence in performance and give them opportunities to perform at various events. The school has a vibrant choir that performs at many events throughout the school year including our annual carol service. Pupil with an interest in musical theatre can also join the Performing Arts Club and be part of our school musical next May.