ICT Key Stage 3/4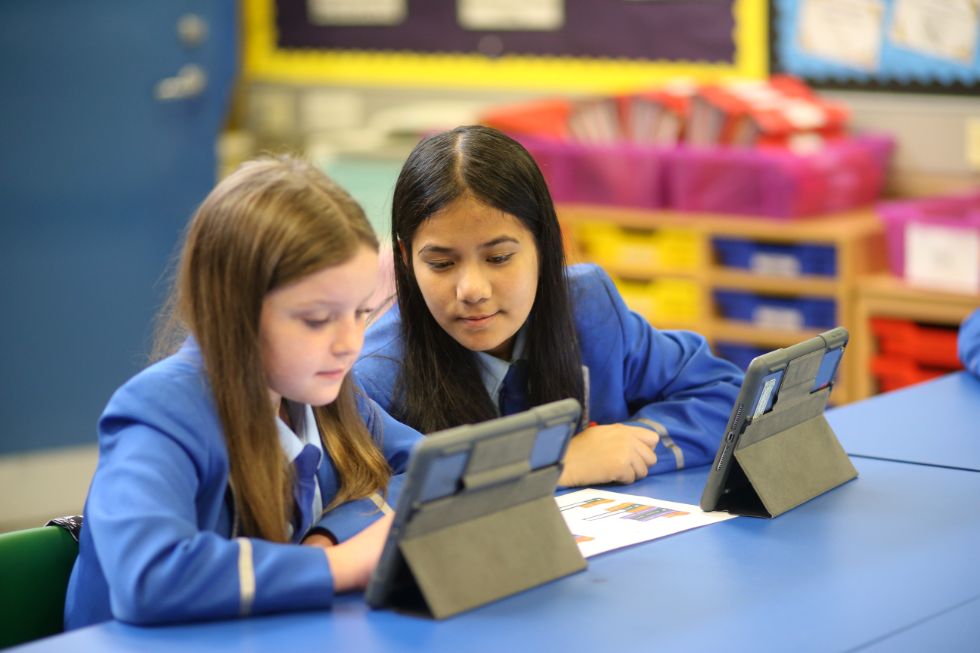 The aim of the Information Communication Technology programme is to make the connection between school and the world of work, enabling young people to develop the knowledge and attitudes they need to succeed, building on 8 key skills:
Communication
Confidence
Financial Capability
Initiative
Organisation
Problem-solving
Teamwork
Resilience
Staff involved-
Miss Jenna Boden
Mr Karl O'Hagan
KS3 Overview
In St. John the Baptist's College, we now offer this programme to all Key Stage 3 pupils. An outline of course content is detailed below:
Year 8

Pupils will be able to incorporate and improve ICT skills through developing knowledge and understanding of the following:

Conduct a class survey
Display results of a survey using ICT
Students should be aware of when to select and use appropriate software for spreadsheets, databases and word-processing software.
Students should understand the difference between qualitative and quantitative information.
Students should be able to create graphics.
Students should be able to combine text and graphics in a variety of ways.
Students should be able to use word processing effectively in a variety of situations.
Students should be able to use spreadsheets appropriately
Students should be able to create charts using a variety of formats and insert titles and legends
Design a leaflet
Use all features in Publisher

Year 9

Pupils will be able to incorporate and improve ICT skills through developing knowledge and understanding of the following:

Design a booklet using ICT
Recognise the 4 factors of production
List the methods of producing goods
Understand how production has changed over time
Describe CAD and CAM

Pupils will take participate in an internal Enterprise and Innovation programme. Through this programme pupil will:

Work in small groups and start up their own mini company
Work together to come up with a company name
Pupils will create a mission statement for their company
Pupils will come up with a slogan
Pupils will design a company logo
Pupils will assign each other a role in the mini company
Pupils will research and come up with a product idea
Pupils will design and complete their own market research
Pupils will decide on a price for their productPupils will set up their stall and sell their products to their peers and members
Pupils will evaluate their own performance

Year 10

Pupils will be able to incorporate and improve ICT skills through developing knowledge and understanding of the following:

Produce a spreadsheet
Use all features of spreadsheet
Gain a knowledge of how businesses record money
Recognise the different methods of payment
Understand how profit and losses are calculated
Complete an application form
Complete a CV
Explain what is meant by the term reference
Understand the interview process
Recognise rewards for working
Identify the elements of a contract of employment
Understand the responsibilities of employers
Give reasons why employees get dismissed
Understand the reasons why employees use trade unions
Be familiar with the Health and Safety at Work Act.
KS4 Overview
Within the department we are offering 2 GCSE or equivalent courses GCSE Digital Technology and OCN ICT.
GCSE Digital Technology

Digital Technology

The CCEA GCSE Digital Technology specification is unique in the UK. Students choose either Route A: Multimedia or Route B: Programming. Based on this, the qualification they achieve is either GCSE Digital Technology (Multimedia) or GCSE Digital Technology (Programming).

Students acquire and apply knowledge and understanding of digital technology in a variety of contexts. They also develop creative and practical digital technology skills, either using a range of generic software or in an object-oriented environment. They explore the legal, social, economic, ethical and environmental impact of digital technology. This qualification also helps them to develop transferable skills such as creative problem-solving and teamwork.

This qualification builds on the knowledge, understanding and skills developed through the Cross-Curricular Skill of Using ICT.

This specification is unitised, so it's possible to take part of the assessment at the end of the first year of study.

In SJBC we undertake the following units:

Unit 1: Digital Technology

In this unit, students explore a range of digital technologies available for data storage, manipulation, presentation and transfer. They also evaluate the importance of data security and data legislation.

Unit 2: Digital Authoring Concepts

In this unit, students develop understanding of the concepts involved in the development of digital systems.

Unit 3: Digital Authoring Practice

In this unit, students design, develop and test digital multimedia systems.

Unit 1 is compulsory. Students then complete Units 2 and 3 (Route A).

OCN ICT

OCN Digital Applications and Creative Arts

The creative arts and digital technologies sectors are recognised as growth areas within the economy. The OCN NI Level 1 and Level 2 Awards in Creative Arts and Digital Technologies qualifications have been designed to offer learners an introduction to skills and knowledge required in the creative arts and digital technology sectors. They offer a wide range of options mirroring the careers and occupations available within these sectors.

The units currently studied are:

Unit 1: Using Social Media to Market and Promote Events, Products and Services.

In this unit pupils will be exploring the opportunities and threats associated with using social media, understand the applications of social media, be able to use social media for marketing and promotion.

Unit 2: Using Multimedia Software

In this unit pupils will be able to plan multimedia products, input and combine content to build multimedia outcomes, use multimedia software tools to edit and format multimedia content and be able to play and present multimedia outcomes.

Unit 3: Developing Websites

In this unit pupils will be able to create structures and styles for websites, use software tools to prepare
content for websites, and be able to publish websites.

Unit 4: Using Imaging Software Tools

In this unit pupils will be able to obtain, insert and combine information for images and be able to use imaging software tools to create, manipulate and edit images.