Art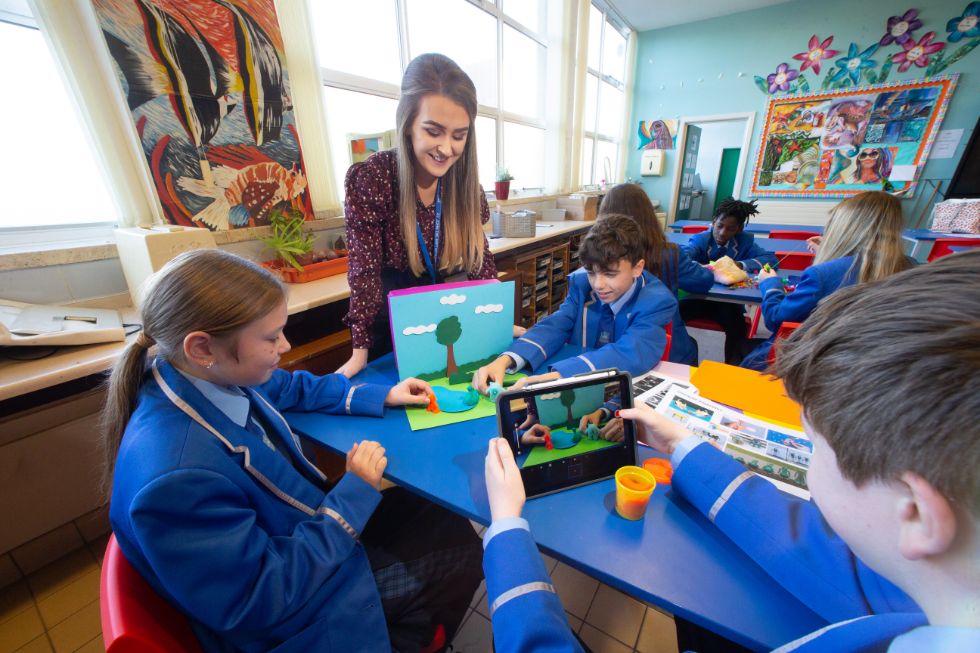 Art and Design is an essential element in the education of all children and a central one in the area of Creative and Expressive Studies in the National Curriculum.
The development of the whole person as a creative unique individual able to communicate is at the heart of the subject. Art and Design encourages and fosters the stimulation of the imagination and the opportunity to express creatively ideas, feelings and emotions.
In SJBC, the programme is planned to ensure that every pupil has the opportunity to develop their artistic potential in the wide field of Art and Design.
KS3 Overview
Key Stage 3
The Key stage 3 programme of study includes not only painting and drawing but work in a wide variety of mixed media.
The pupils are encouraged to have fun, to explore, to problem solve, to work with others and investigate the work of other artists and designers
In the Art Department, pupils will develop skills in
Graphic Media – Drawing and Painting
Ceramics -2D and 3D clay modelling
Printmaking
Textiles – working with fabrics and threads
IT – Graphic design
Semi Rigid and Soft Materials – Sculptural forms
Key Stage 3

Year 8

Term 1

Year 2

Year 3

Theme

Visual Awareness

Colour Theory

Landscape

Summer

Media

Drawing/Painting

Print Making

Ceramics
Year 9

Term 1

Year 2

Year 3

Theme

Pattern/Landscape

Celebrate

Music

Media

Drawing, Painting, Ceramics, Printmaking

Textiles/Print Making

Graphic Design
Year 10

Term 1

Year 2

Year 3

Theme

Self-Image, Masks

Food

Travel

Media

3-D Construction

Graphic Design

Print Making

Textiles/Collage
KS4 Overview
Examination Board
CCEA's Art & Design qualifications challenge students to develop their observational skills and aesthetic appreciation. Investigation, experimentation and self-expression are prized at all levels, and this ethos helps students as they learn how to express their inner-most feelings and perceptions visually.
From Entry Level to A2, CCEA's Art and Design qualifications stimulate student imaginations and help them to explore new ways of seeing and representing the world around them.
You will study.
Two units are studied over two years.
Unit 1

Controlled Assessment

Part A: Exploratory Portfolio (25% of GCSE)

Part B: Investigating the Creative and Cultural Industries (35% of GCSE)

Unit 2

Externally Set Assignment (40% of GCSE)