Student Leadership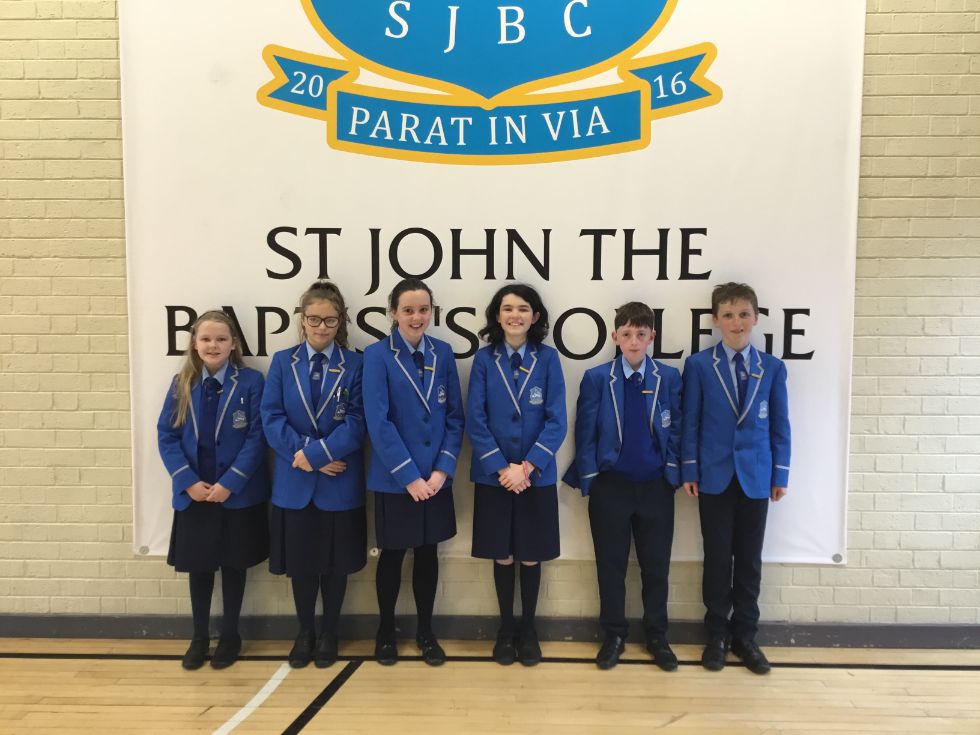 Student Leadership
Pupil Voice and Active Participation
At St. John the Baptist's College we believe that students should be given a wide range of opportunities to develop and practise leadership skills.
Student Leaders

Roles and Responsibilities

Student Council (Mrs L. Swain)

Head Girl: Aoife McAtarsney

Head Boy: Rian Hughes

Deputy Head Girl: Niamh McCann

Deputy Head Boy: Coen McIlkenny

Student Council:

8A - Angel Pereira

8B - Ashtin Green

8C - Connor Hamill

8D - Jay Reid

8E - Lara Sanches

9A - Joab Silva

9B - Ruby Cavanagh

9C - Ariana Fernandes

9D - Julia Kalisz

9E - Donald Lucas

10A - Joseph Breen

10B - Shea Mulholland

10C - Broccan Tennyson

10D - Schuyler Douglas

11A - Melanie Sequeira

11B - Erica de moura

11C - Eoin Gracey

11V - Anthony de Sousa

12A - Ella Smith

12B - Che McShane

12C - Rusne Kairyte

12V - Deimante Vaisnoraite

As the nominated Student Council, you will hold important positions within our school community. These are positions of responsibility that will allow you to demonstrate many skills including leadership, team-working and problem-solving skills.

As a positive role model to others you are expected to set a high standard for others to follow. You are expected to uphold the school's Code of Conduct at all times and set high standards in your behaviour, attitude, appearance, attendance and application to school life.

The aim of the Student Council is to enhance the quality of school life by voicing the collective views of students. You will attend monthly meetings to bring forward ideas for consideration by the decision makers in our school. This is a really effective way to see action and change take place, so please talk with your fellow pupils and bring forward ideas on how you feel we could improve school life. As an elected member of the Student Council you may be asked to represent our school at school and community events.

Student Council members will:

● Act as a link between students, teachers and SLT;

● Present themselves to others as approachable, understanding and caring;

● Listen to fellow students and bring forward realistic issues, concerns and ideas to council meetings for discussion and negotiation;

● Assist in fundraising events;

● Uphold the school's Code of Conduct and to set high standards amongst peers with regard to behaviour, attitude, attendance, appearance and achievement;

● Assist and support teachers as and when necessary;

● Represent the school at community events when asked to do so;

● Promote our school as a positive learning environment whilst in and out of school;

● Wear the appropriate badge as part of your uniform at all times;

● Wear the uniform to the highest possible standards.

Peer Mentors

Eoin Bell
Lauren McConville
Olivia Rybak
Noah McCann
Helen Conwell
Broccan Tennyson
Sebastian Rosynek
Aine Gorman
Niamh Lyness
Charlie McCourt
Ronan Kofa

The Mentors role is to act on behalf of the School to support new students. Peer Mentors are invaluable as they will have experienced the same issues and concerns and can offer support from a young person's perspective. The Mentor will act with the best interests of the young person in mind at all times and within the structures set down by the school.

The Mentor will:

● Help new students settle into St. John the Baptist's College

● Help to establish good communication between new students and teachers and other students.

● Provide support for young people who might be isolated and lack self-confidence.

● Provide support in getting to know a new learning environment.

● Help new students see the way ahead.

● Help mentees to manage time, plan and organise work.

Two mentors are appointed to each Year 8 Form Class. Mentors visit their class during a.m registration.. The following activities are carried out:

● Assist the teacher in any way that seems helpful – check uniforms, Hand out notes.

● Encourage their class to attend and participate in extracurricular activities.

● Chat with the year 8's and get to know them.

Faith leaders

(Miss C Conway)

· Charlie Cusack

· Laoise Tennyson

· Joseph Breen

· Eoin Bell

· Grace Preshur

· Ella smith

● Actively participate in the planning and organisation of School liturgies and staff Prayer.;

● Be ambassadors for their faith by meeting visitors and helping with organising Mass and other Religious gatherings;

● Promote the active role of the school within parish life.

Digital Leaders

(Miss J Boden)

· Joshua Hickman

· Shea Edgar

· Daniel O'Neill

· Rusne Karyte

· Matas Mosteikis

· Makysmillian Pobierzyn

● Support staff and students if they are experiencing any technical difficulties;

● Lead innovative ICT practice at the school and contribute to ICT innovation across the curriculum;

● Support staff and students with ICT issues;

● Assist students with resetting their passwords;

● Help with technical support, such as recording/film making at school events.

Sports Leaders

(Mr. R McAleenan)

· Fernando Sanches

· Jake Bowman

· Eoin Bell

· Aoife Conway

· Kayla Campbell

· Aoibh Toye

● Encourage students to participate in sporting activities offered at SJBC;

● Show a positive attitude towards sport in SJBC, in lessons and extra-curricular activities;

● Promote nutrition, health, wellbeing and physical activity;

● Help organise sporting events in school such as Sports Day;

● Speak at key events run by the school;

● Act as a role model to other students in your conduct and appearance inside and outside of school;

● Encourage other students to participate in school teams and to commit to team training.

Hospitality Leaders

(Mrs. R McKeever)

· Raissa Djalo

· Aoife Tennyson

· Erika Kundrotaite

· Martyna Krause

· Misha Romit

· Kayla Campbell

● Be the friendly face that our staff, parents & community will meet when they arrive for school events;

● Participate at school events during and after school - Set up, run and clean up;

● Work with groups at Open day and similar events;

● Plan for Healthy Eating week & promotions throughout the year;

● Act as a role model & leader in class;

● Promote HE events & competitions.

Numeracy Leaders

(Miss F. McCormack)

· 8A Emma Laverty

· 8B Freya Douglas

· 8C Myla Conaty

· 8D Tyla Donnelly

· 8E Cadhla Toland

· 9A Sean Kerr

· 9B Clodagh Coyle

· 9C Georgina Larkin

· 9D Nikol Marinova

· 9E Donald Lucas

· 10A Eoin Bell

· 10B Aoibh Toye

· 10C Bethany Castles

· 10D Conán Fox

● Support the class teacher;

● Provide peer mentoring to students within the class;

● Give help to peers;

● Help to drive the idea of Numeracy across the school with participation in CALC activities, UK Mathematics Challenge, Numeracy Fun Day etc.

Literacy Leaders

(Mr J.Page)

· 8A - Cody Gorman

· 8B - Jude Cullen

· 8C - Connor Hamill

· 8D - Rhyan Duffin

· 8E - Callum Toland

· 9A Laoise Tennyson

· 9B Eva Kate McHugh

· 9C - Luma Rocha

· 9D- Lorcan McCann

· 9E - Ryan Hoey

· 10A - Evita Vaicekauskaite

· 10B - Bronagh Campbell

· 10C Ronan Kofa

· 10D - Mafalda Silva Lopes

● Support the class teacher;

● Promote reading to their peers through literacy initiatives;

● Responsible for sorting and tidying the library;

● Provide peer mentoring to students within the class;

● Help to drive the idea of literacy across the school with the organisation of a 'BookBench' project, and an author/spoken word artist/performance poet visit;

● Assist with a variety of activities for events such as World Book Day, Literacy Day etc.

Language Ambassadors

(Miss A. Bradley)

· Aliyah Barros - 12A

· Aoife Tennyson - 12A

· Jorge Evora -12A

· Nayma Costa - 11A

· Melanie Sequiera - 11A

· Catherine Megaw -10A

· Daniel Veiga - 10B

· Weronika Sak - 10C

· Kacper Kawarski - 9A

· Wiktoria Myzor - 9A

· Sean Hamill - 9B

· Maria Martins - 9C

· Luma Rocha - 9C

· Aoibheann McConville - 8C

● Share their other language with peers and staff in annual events, such as European Day of Languages;

● Assist in the running of the annual multicultural day;

● Participate in a variety of language-based activities such as investigating Christmas traditions in other cultures and countries;

● Prepare presentations for assemblies, taster days and open days.

Eco Leaders

(Miss M. Hughes)

· Laoise Tennyson

· Maria Dos Santos

· Donald Lucas

· Ryan Hoey

· Scarlett Hillman Hughes

· Ryan Lee Flynn

· Gabija Olchova

● Encourage others to recycle, pick up litter, be considerate of wildlife and the biodiversity of the local and global environment;

● Show dedication to attendance at meetings and share other ideas with other pupils in the school on how we can improve any school or environmental issues;

● Promote eco awareness around the school and community.