Religious Education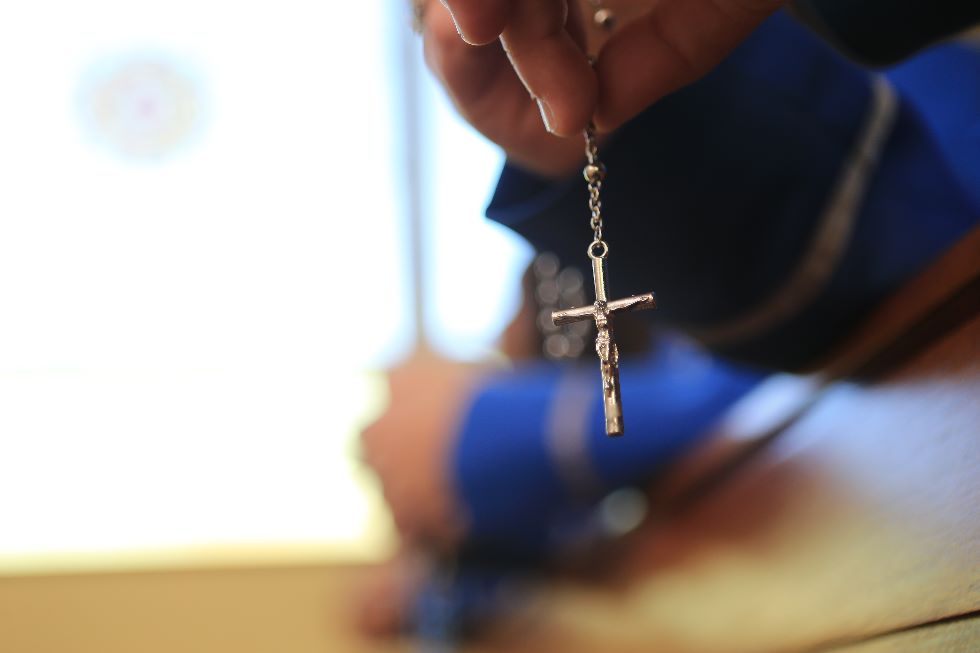 Within St John The Baptist College Religious Education is an integral and indispensable aspect of the total education of young people and, therefore, deserves an important place in the life and work of the school.
Each Religious Education lesson takes place in the context of a Christian community. In the class room each pupil gets his/her main chance to acquire a knowledge and understanding of faith which will enable him/her to acquire the gift which God has given, and to look at life from the Christian viewpoint.
The RE Department liaises closely with our school chaplain to administer the sacraments during the school year. He administers the Sacrament of Reconciliation for everyone in the school during the periods of Advent and Lent. There is also at mass to mark the beginning of the school year, and, also, a combined school service during Catholic Schools Week. We arrange various liturgical celebrations throughout the school year to celebrate key religious festivals within our school community.
KS3 Overview
Key Stage 3
Curriculum
The Religious Education programme, through an exploration of the Bible, the liturgy, church teaching, the witness of Christian living, the world of nature and human experience, seeks to lead the students to know God and to become aware of God's plan for them and for creation. It seeks to help them to respond to God's communicating presence with them
Aims: The general aim of the Religion Department is to awaken people to faith and then help them throughout their lives to deepen and strengthen their faith i.e. lead the people to a mature faith.
Through religion the young person should acquire the knowledge, Understanding, values and attitudes which will enable them:
to facilitate and support the ongoing development of the faith and spiritual life of the students.
to provide opportunities for students to come to a deeper knowledge and understanding for their faith and then apply this knowledge and understanding to their life experience
to develop in the students, skills of listening, discussion analysis evaluation, articulation and communication in the areas of religion.
the section also seeks to promote understanding of other faiths and respect for the beliefs of others.
These aims are in association with the general aims of the school itself.
Objectives: The overall objectives of the Religion Department are that year 8-10 pupils should follow the advised course of the Diocesan Advisors
1st Year – Fully Alive 1
2nd Year – Fully Alive 2
3rd Year – Fully Alive 3
These texts are supplemented by the Religion for Living Series.
However, the importance of faith formation through liturgy is also central to Saint John the Baptist's College. All pupils participate in collective worship daily, as well as special liturgies that are organised for the Liturgical year. These include:
The beginning of the school year mass.
Rosary in October
Prayer service for the Holy Souls in November
Advent assembly in December
New Year assembly in January
Lenten prayer service
Penitential service
Easter Assembly
May Procession
Spiritual Guidance
As a Catholic post-primary school, Saint John the Baptist's College welcomes the support and assistance of our parish clergy Canon M Toner and Fr P Clarke. During the academic year our pupils join together in worship in St John the Baptist Church, both as a whole school and as participants in the Catholic Schools' Week liturgy along with other primary and post primary schools throughout the Archdiocese.
We also appreciate the help and guidance given to our school by Fr Declan O'Loughlin the Diocesan Advisor for RE in the Archdiocese of Armagh.
In recent years Saint John the Baptist College has had the support of the Portadown Knights of Columbanus, and we hope to further develop these links in the years to come.
The RE Department 2021
Mrs B Leathem (Head of Department)
Miss C Conway
Miss C Heaney
Mr T King
Mr R Smith
Miss EG Girvin
KS4 Overview
Key Stage 4 Religious Studies Programmes in St John the Baptist's College
GCSE Religious Studies
Exam Board: CCEA
This is a new specification for first teaching from September 2017. It is a two-year unitised course assessed by exam only, there is no coursework or controlled assessment.
GCSE Religious Studies is a gateway to many areas of employment. The qualification is counted as a key contributing subject for jobs in education, law, the medical profession, and government, to name but a few.
CCEA GCSE Religious Studies specification encourages students to develop an enquiring, critical and reflective approach to studying religion. Students explore and engage with important questions about belief and respond to them personally. This can enhance their spiritual, moral and cultural development, helping them to contribute to social cohesion. Students also develop key transferable skills, such as considering different viewpoints and expressing their opinions to influence others.
The two units that will be studied at GCSE level are:
Unit 5: Christianity through a study of The Gospel Of Mark
And
Unit 6: A Introduction to Christian Ethics
OCN Level 2 Certificate in Religious Studies
The OCN NI Level 2 Certificate in Religious Studies is designed for learners who wish to develop knowledge and understanding in religious studies in order to make sense of religious choices people make in today's society. It is intended that learners will develop empathy, respect and awareness of other religious beliefs and cultural diversity.
By continuous assessment through building a portfolio, learners will be more motivated and engaged to successfully complete the qualification.
Individual Units
Addiction
Charity and Religious Charities
Exploring Personal Identity and Faith
Exploring Religious Traditions within Own Community
Life and Death Issues
Life of a Famous Person of Faith
Marriage and Divorce
Prejudice and Reconciliation
World Faith
Successful completion of this award involves the completion of a portfolio of work – ( 9 assignments over the course of the two years – one on each unit.)
This is a pass/fail award. If students complete the 9 assignments to the standard expected, then they will pass the exam.